The qualitative growth of La Montre Hermès
Only a few weeks after taking on his new role as CEO of "La Montre Hermès", Laurent Dordet agreed to see us in his office in Bienne. The brand is reaffirming its watchmaking ambitions in a very clear way.
Laurent Dordet has had to prioritize and has hence not had time since his arrival to empty his boxes yet. There they lay, in his office in Bienne. Yet, it must be said that he has already had to go through his first BaselWorld as well as the introduction of the Slim d'Hermès, which did not go unnoticed. The new watch is streamlined and houses an in-house movement for which the brand even created a new typography. Here are the highlights of our meeting with the new CEO.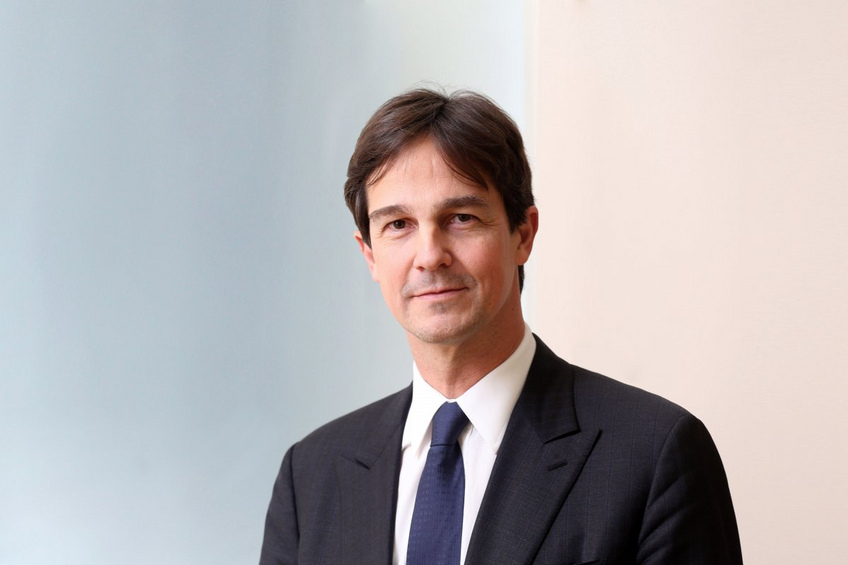 Laurent Dordet, CEO of "La Montre Hermès", agreed to see us in his office in Bienne
You officially started on 1st March. What are your first impressions as an expatriate in Switzerland?
In fact, I have not yet moved in completely. My family is still in Paris and I have been shuttling back and forth. We will move to Lausanne in the summer. Personally, I was struck by Switzerland's calm and powerful serenity. If you believe in a project, you will find here an incredible capacity to invest and to swiftly take entrepreneurial risks.
The development of Vaucher Manufacture Fleurier is one striking example of this (editor's note: Hermès owns 25% of it and produces its in-house movements). Upon visiting the premises, it is hard to believe that it is actually just a 10-year old brand.
Your account of BaselWorld 2015 and the Slim d'Hermès release?
When you launch a product you believe in, you always have great expectations, especially as the feedback of the preview sessions was full of praise. Basel confirmed that for everyone warmly welcomed it: our clients, the press and the Hermès network (at their dedicated presentation). The Slim d'Hermès is our first release of a man-woman transversal collection with quartz movements since Cape Cod in 1991. This has brought more coherence to our masculine range, which was somewhat limited until now and featured both in-house and industrial movements. It has now reached its critical mass with 80% of its pieces equipped with in-house movements and we intend to increase this percentage.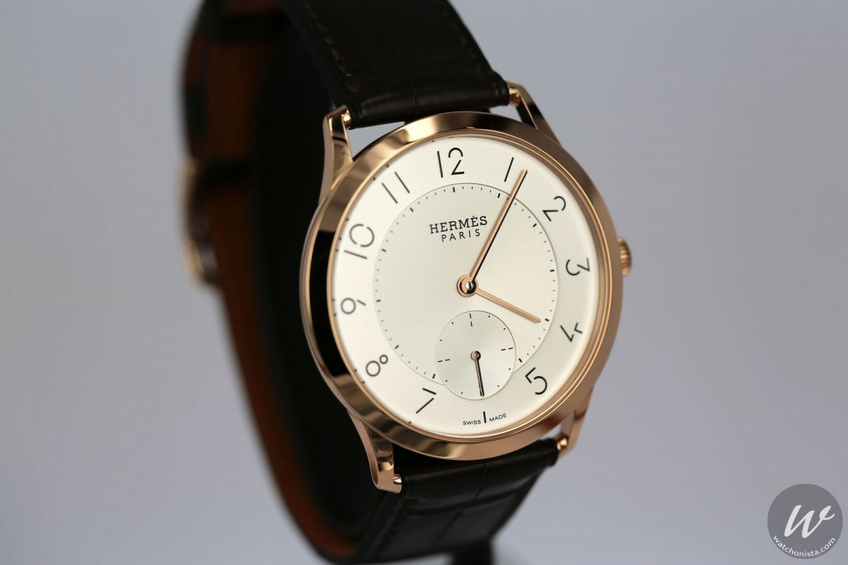 La Montre Hermès Slim d'Hermès in red gold
What will be the proportion of watches for men and women?
For the time being, the percentage of ladies pieces is close to 75%. In the medium term, we will have to make it 50/50 but that will not happen overnight.
So much so as we will continue to focus on the ladies' segment and that the rebalancing will exclusively depend on developing the men's ranges more swiftly!
Favoring in-house movements in this segment however implies an increase in average prices.
Probably. Today, our in-house watches cost between €4,500 and €7,500, if we exclude complications and "métiers d'art" watches which are more expensive.
In Basel, you introduced pieces that give craftsmanship prominence: champlevé enamel or traditional Japanese painting.
Hermès enjoys high legitimacy in "métiers d'art", either because it masters it or simply because it is curious about every skill. "Métiers d'art" already represent a significant portion of our turnover and promise beautiful growth perspectives not in terms of money, as luxury is rare, but in terms of new ideas.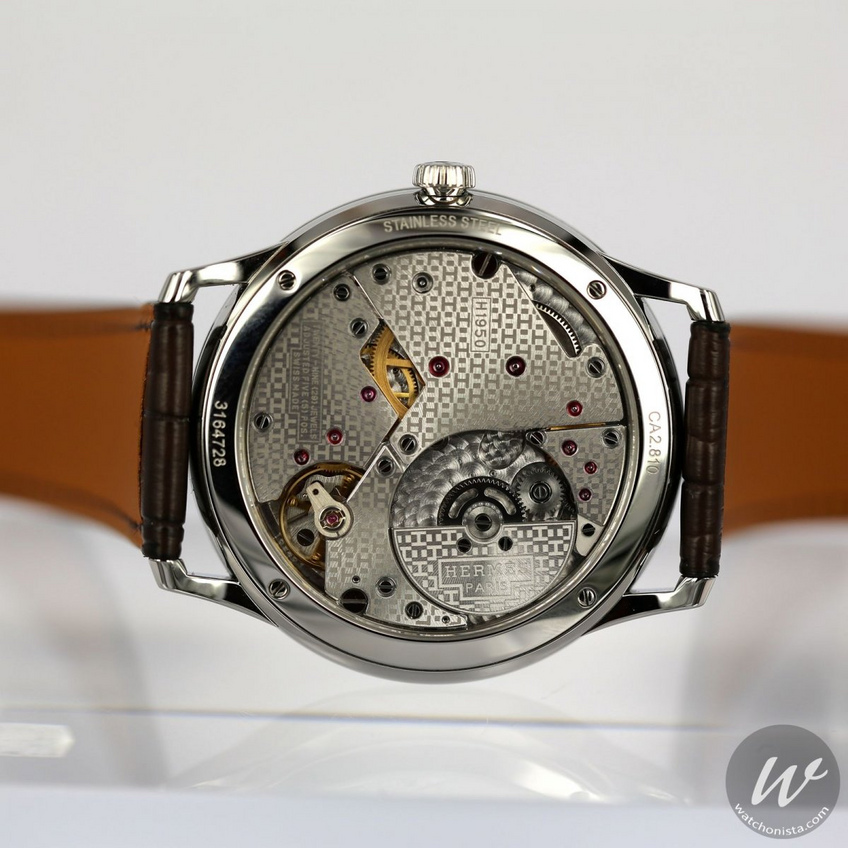 La Montre Hermès Slim d'Hermès backcase
What are your sources of inspiration?
They often stem from the inside and are born of the daily exchanges between Philippe Delhotal and his team, the artistic direction in Paris and the whole of the company's "accomplices", who suggest their ideas and designs. Our ideas are always the result of enthusiasm and curiosity.
For example, Hermès often makes its craftspeople travel to meet other craftspeople elsewhere on the planet only to discover new talents and skills. These exchanges sometimes end up being concrete realizations: a trip to Africa inspired the Touareg jewelry range and we discovered particular lacquering techniques in Vietnam. The same techniques apply to watchmaking: three years ago, Master Buzan Fukushima revealed to us a traditional Japanese painting technique called the Aka-é. That inspired the dials of the twelve unique pieces of the Slim d'Hermès Koma Kurabé that were painted on porcelain from Sèvres and are thus a blend of French and Asian know-how. We have also brought our own particular techniques to watchmaking, such as the Saint-Louis crystal ware with which we created the millefiori dial (editor's note: a technique that consists of creating miniature gardens inside crystal balls that are often used as paperweights). All in all, we have found a way to put watchmaking skills at the service of our creativity.
And that also includes new complications
Yes, we cannot just create yet another chronograph.
We must bring something new and tell our own story like we did with "Le Temps de l'imaginaire" and its complications that weave another link to time: "Arceau Le Temps Suspendu", "Dressage L'heure Masquée" or a new piece we are still working on which will be released in the next few years.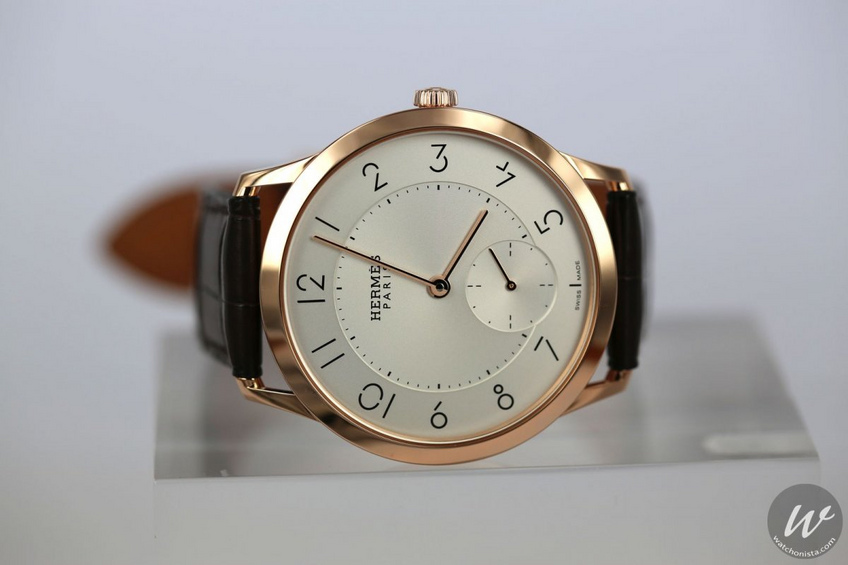 La Montre Hermès Slim d'Hermès
Watchmaking has often been described as a growth catalyst for Hermès but in the last few years its contribution has stagnated on 5% or even slightly less than that.
In fact, it is around 4%. This is certainly a worrying situation and I am expected to do something about it. There is no intrinsic reason for watches to fare less well than other crafts and its growth potential must also be around 10% per year. We still need to reinforce our watchmaking legitimacy and are working on it. We will need relatively short-term results, which call for a tactical response. For example, we need to improve our supply chain in order to reduce delivery deadlines, which are currently often around six months. We also need to work on reducing our deadlines for cases and dials and we are currently negotiating our deadlines for movements with the Vaucher Manufacture. The Slim d'Hermès will be in our points of sale by the end of the year.
Which other changes do you intend to make?
There will be no turnarounds; Hermès is a brand that thinks and acts in the long term. We decided to start creating mechanical watches fifteen years ago and we are not questioning that decision. We have a good strategy but we must absolutely improve our execution – both upstream and downstream – right up to our sales network. We must give our products a more prominent space in the Hermès' network of points of sale, as everything final customers do not see does not exist! We must also continue training our sales clerks. Mechanical watchmaking requires true technical competence and generally has a well-informed clientele whose questions need to be answered properly.
Between 2012 and 2014, the sales of "La Montre Hermès" decreased by 14% and went from 173 to less than 150 million euros. It is the only division of the group that is facing losses. How would you explain this under-performance?
We went through two difficult exercises after outperforming the watchmaking market two years before that. In 2013 and 2014, our retail sales went well but our overall sales, which represent a third of our whole sales figures, were disappointing. This may have been due to an overstocking problem. We have also suffered from our strong exposure to the Chinese market.
The economic slowdown and anti-corruption laws hit us hard.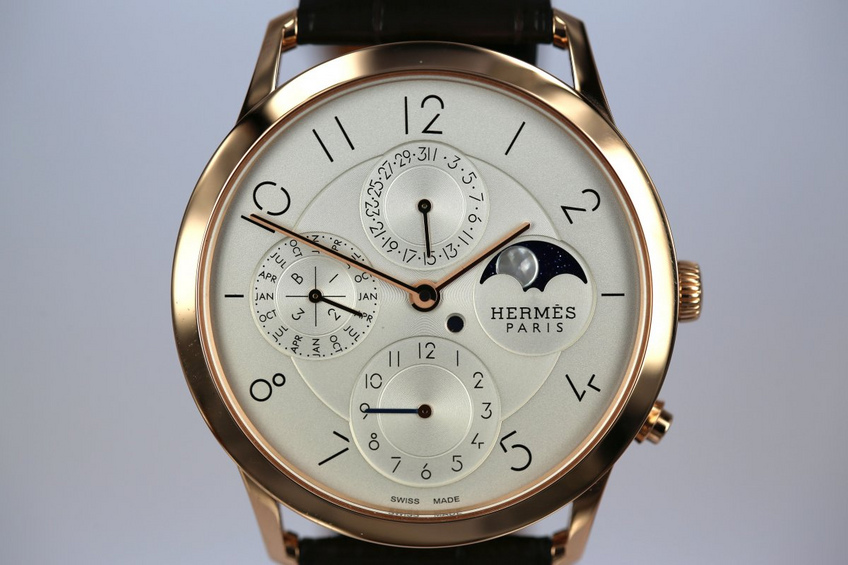 La Montre Hermès Slim d'Hermès Perpetual Calendar
All your prices are displayed in Swiss francs but the group publishes its results in euros.
Yes, and our clients buy our products in yens and dollars! The rise of the Swiss franc may obviously affect the price of our watches but should an adaptation become necessary, it won't be proportional to the franc's rise.
For several years now, Hermès has been working toward independency. Joseph Erard Holding produces your cases, Natéber your dials and 25% of Vaucher Manufacture Fleurier the Hermès movements. Will you continue to develop this policy?
We will surely go through a consolidation phase even if we remain open to new opportunities. Let's just say that there is nothing cooking for the moment. Our vision of greater power is not that of being 100% independent from our external suppliers but that of having full understanding and control of watchmaking skills.
You joined Hermès 20 years ago, in 1995. Which characteristic values or principles of this maison are you bringing to its watchmaking headquarters?
Firstly, the respect of skills, suppliers and staff. Secondly, the creativity that will feed them.
I also hope to bring, in a more pragmatic way, an intimate knowledge of both the brand and its functioning, particularly in terms of distribution and creation.
You supervised Hermès' leather craft and saddlery trade that makes a 1.9 million euros turnover, which is almost half the group's turnover. "La Montre Hermès" is ten times smaller; how will you approach this difference in scale?
One of my missions is to reduce this disparity! But we want quantitative and qualitative growth, the kind that makes us proud and that is fed with the quality of the products we sell. All of Hermès' crafts share a common feature: skills are treated with respect and are progressively assimilated in order to be used at the service of their own creativity. It is exactly how we intend to proceed with "La Montre Hermès" and this is what makes me happy about my shift to watchmaking. This is no brand stretching, that is, a need to affix our name to any new product we release. On the contrary, it is about staying true to our values and asking ourselves how we can innovate.
By
Vincent Daveau
,
Contributor
The elegant and "fusional" Slim d'Hermès brings pure watchmaking values to their core and adds a new sense of style to the contemporary...